Discover more from Sharvesh
musings about books, tech, history and crypto stuff
RIP BOZO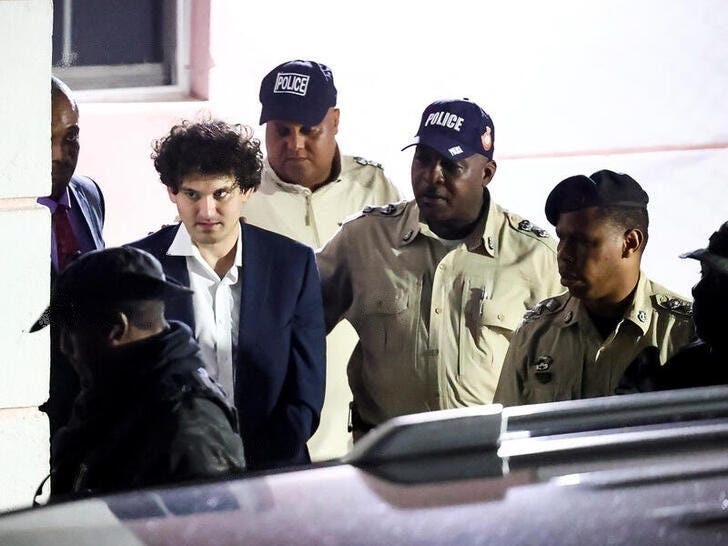 A few weeks ago I had a post where I told the story of SBF through a bunch of DALLE-2 generated images and then predicted that it would lead to "war" of some sort where everyone goes against SBF.
This was weeks before the collapse of FTX as it was about his push for DeFi regulation with his Capitol Hill buddies (jail for all of them imo). Today SBF has been arrested and is looking to face hundreds of years in prison. I didn't write much because I was preparing a really long article about SBF and why his push for regulation in DeFi was bad but then had to scrap that article the moment they filed for bankruptcy in early November 2022.
Funnily enough, before the whole withdrawals were halted and FTX filed for bankruptcy thing happened, I made a little prediction that I would be elated if CZ managed to somehow liquidate Alameda entirely. That turned out to be true which is cool.
Enough has been said about SBF and I hope he spends the rest of his life (no matter how short or long) locked up for the crimes he has committed in the name of "Effective Altruism".
Meanwhile the rest of crypto will be paying for his sins for a long time. The biggest fraud in crypto, now that's quite a big accomplishment... Too bad he won't be able to enjoy it in his penthouses with his uhh "friends".
I have written quite a few posts about SBF, FTX, Alameda, Sam Trubucco, Solana and more. Not going to update or change those posts as it will be funny to look back.
This was from a post I wrote earlier this year about Sam Trabucco. He exited the stage quietly when he retired in August 2022 and now everyone is focusing on Caroline for the crimes Alameda committed when Sam was also involved. In hindsight, Sam pumped the market from July 2021 to late 2021 using FTX customer funds. The Solana Ecosystem was also pumped using FTX Customer funds WTF. Also Alameda lost $3b in 2021 so turns out they were not that great at trading either.
Also the "Sam yet again talking about how he took our money" part is funny since he literally STOLE OUR F██████ MONEY instead of winning directional bets in the markets.
This in August 2022 was about the origins of the bankman. In this post, I talk about he orignally made his money from the Japan arbitrage. Turns out he made like $10m from this trade and then proceeded to lose this money through a series of bad trades so then he decided to create FTX to make it all back. F██████ SCUMBAG.
Also funny how once again I mention the "takes our money" part refering to selling Solana shitcoins and vapor tokens. In hindsight this was a very big issue but at the point my understanding was that this was just a small scammy thing he does to profit but he made the vast majority of his money through FTX fees and profiting off of  legal ventures. Turns out no. oh well.
This was a post titled sam wins where I talk about how Sam Trabs won the money game and went to live in the seas on a yacht. Turns out this █████ decided to flee after STEALING AND LOSING ALL OUR ███████ MONEY YOU PIECE OF ████████ ████ █████ FRAUD.
The last post I made about SBF was the disguised as altruism post which I referenced at the start.
Anyways this happened today which I why I felt the need to finally make a post to conlude this whole saga. But the fun is not over, there are still trials and bankruptcy procedures will probably go on for years for victims of SBF, Caroline, Trabucco, Gary and all the criminals over at FTX, Alameda and the friends and family members they paid along the way.
This picture and all the various charges by the CFTC, SEC, SDNY and more is nice to see though.
also don't forget that Sam Trabucco, Caroline Ellison and the other polycule members are still free. Until they are all locked up or 'gone', the saga is not over.