Discover more from Sharvesh
musings about books, tech, history and crypto stuff
The Tales of His Excellency Justin Sun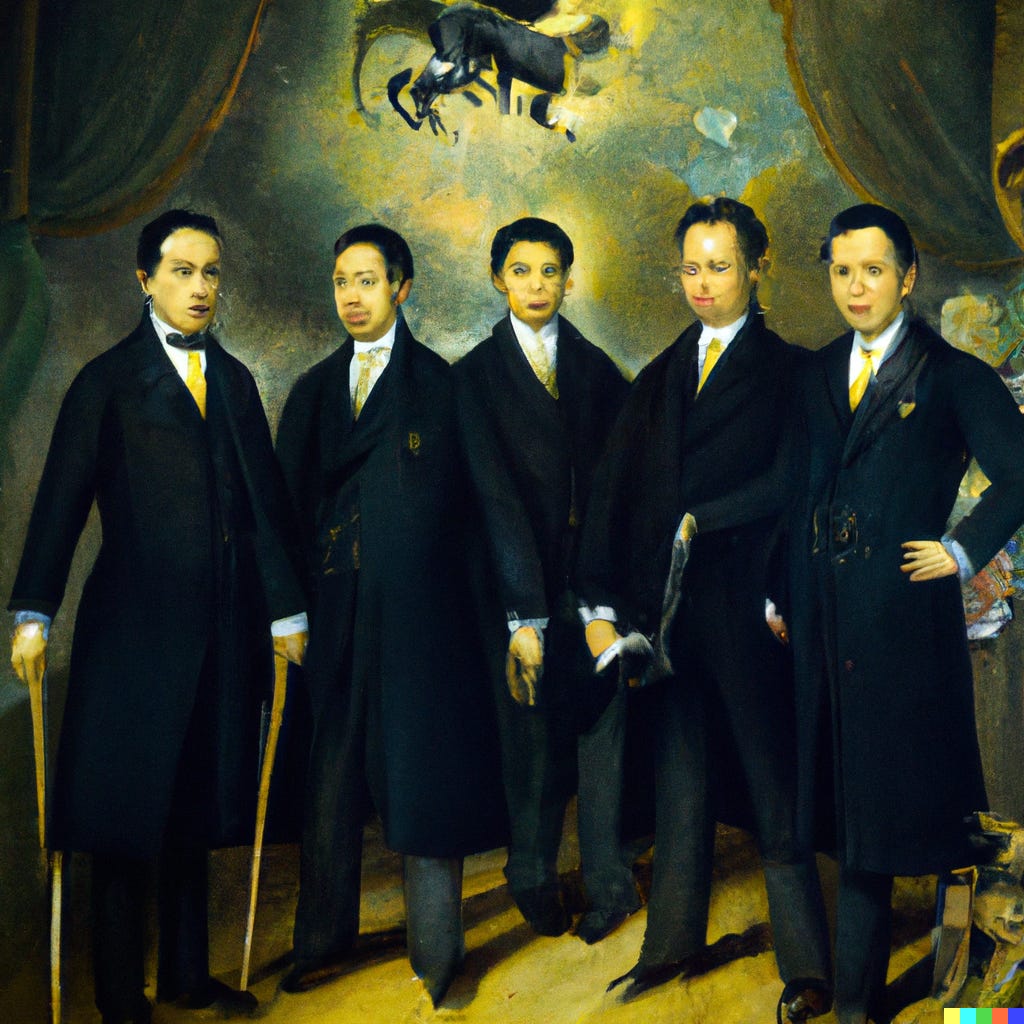 Justin Sun is one of the most interesting people in crypto. He frequently transacts hundreds of millions of dollars in single transaction and even moves billions in a single transaction on the Ethereum blockchain.
If there's a hot new DeFi protocol taking off with yield farming, you can be sure that the top whale address is Justin Sun's personal multi billion dollar wallet out triumphing DeFi Whales, exchanges, CeDeFi companies, VCs and even the Sams from Alameda.
He is known for creating a spectacle and using his wealth to create headlines.
In 2019, he bid $4.6 million to have a private lunch with Warren Buffet before cancelling it and then meeting up with Warren a few months later.
He was also the second highest bidder for Beeple's $69 million NFT "The Everyday".
In 2021, he bid $28 million to be the first passenger on the Blue Origin spacecraft with Jeff Bezos but was unable to make it for the flight.
He also announced that he was the buyer of Giacometti's Le Nez (1947), which sold for $78.4 million at Sotheby's.

You get the point. Justin is pretty rich and publicly his main DeFi wallet had well over 6 billion and he was sending billions worth of Ethereum to Binance to sell at $4000 per ether.
How he made his money is certainly interesting. He first made money through a Chinese Social Media application that was something like an audio version of Tinder and over 18 websites. It then got shutdown by the Chinese authorities due to the app's content.
In 2017, he founded Tron Foundation, a blockchain company and managed to sell $70 million worth of Tron tokens through its ICO (Intial Coin Offering) which is similar to an IPO except there's less regulations involved and anyone can participate. As mere days before the Chinese government announced a ban on ICOs, Sun had to pull a couple of tricks and move around the world.
Through Tron, he then acquired BitTorrent and then made an ICO to sell BTT tokens to cash in on the 100 million active users it had. But soon it was under pressure by US and Chinese authorities especially with the looming threat of a trade war between the countries.
"Justin looks at barriers and thinks, 'I can get around these barriers,'" a former senior employee told me. "In some ways that's great. It's kind of the entrepreneur's mindset," they said. But "that would include rule-breaking on the less scrupulous side of things." Sun seemed to push those concerns aside with what became a famous phrase inside the company: "I think it's okay."
This is just a snippet from a Verge article that they had done on Justin Sun. There's two really long articles about Justin Sun that explore his companies, market making, trading, company work culture, ethics, running from governments, business practices etc.
Here's a collection of quotes from the two Verge Articles about Justin Sun.  
The Chinese government's ICO ban was why, a week later, Sun was waiting for a flight in Incheon International Airport. Sources who heard him tell this story say Justin believed he was a fugitive and was ready to take off at a moment's notice.

BitTorrent's C-suite executives, just in from San Francisco, were ferried from Hotel Shangri-La in Beijing to a coworking space and led into a glass-enclosed conference room. Sun took the head of the table and read a typed speech, calling himself "Chairman Mao," telling the C-suite executives they were "his generals" and that, together, they would massacre their competition. "People were feeling uncomfortable and incredulous at the euphemisms and metaphors," a person who was present said. When Sun finished, BitTorrent's CEO made a key observation: "Weren't all of Mao's generals killed?" To which Sun supposedly confirmed, "Yes, yes."

Over the course of his explanation, Xu explained that Sun directed them to buy TRX when his team knew that Tron was planning to announce good news to the public. After Tron made the announcement, the token's value shot up, and they sold at a major profit. "I was kind of scared," the former employee told me. "He was doing the so-called market making, insider trading all the time."

When another former employee asked Sun's top lieutenant in Beijing what "market making" meant, he chuckled and said, "You know how the Chinese folks do it, right?" He apparently explained that the market-making team's job was to work with "whales" who were wealthy cryptocurrency spenders outside of Tron. "We have a way to pump the price [of TRX]," he said. "You know those folks that have a lot of money and don't have a lot of brains? You can influence them to do whatever you want them to do." The team's operations had ventured into the realm of what was essentially wholesale market manipulation.

Sun moved Poloniex to the Seychelles islands. The archipelago has few regulations for cryptocurrency exchanges. The fact that roughly 50 to 70 Poloniex employees were headquartered on High Street in downtown Boston didn't matter. The Bostonians were now employed by a blandly named company — Augustech, LLC — set up to provide "technology and IT services" to Poloniex Seychelles.
Sun also began impatiently bulldozing Poloniex's KYC rules, which were slowing Poloniex's user adoption in China to a crawl. A former employee said the logjam enraged Sun. "Fake the KYC!" he screamed at one meeting. "Fake it!"

"I think over time, he started to see all the possibilities of using Polo as more or less his personal bank." But just one problem: all the money on the exchange belonged to the users.

"Justin's tolerance for risk is absurdly high. Like, absurdly high. And I don't know if it's because he knows more than I do, like he just believes fully in his bones that he's set up legally to protect himself."

It was during a meeting about a legally risky business decision that Sun hinted how he'd truly protect himself. A former employee was present. "What's the big deal?" Sun asked. "The worst thing may be that I will never come to the US anymore."

Sun is something of a connoisseur of bank accounts. When Sun said he would chase citizenship for Guinea-Bissau, he urged a worker to start opening bank accounts there if it worked out.
As one former employee succinctly put it, "He thought taxes were stupid." As the close associate of Sun's explained, "Every billionaire, that's all they think about: tax evasion, tax optimization."

Not long after Sun first arrived in San Francisco, he disappeared for months and was completely incommunicado. Eventually, an employee got a hold of him and asked where he was. "I'm in the forest with this lama," he said. (The term "lama" is often reserved for Buddhist spiritual leaders.) "You can't be bothering me right now," Sun went on. "You can't understand what kind of pressure I'm under from 'leaders,' and a lot is on the line."

Sun also announced he's now Grenada's ambassador to the World Trade Organization, where he says he'll advocate for favorable cryptocurrency policy. Because of the new title, one of his senior employees issued proper guidance to workers on Slack for how to correctly refer to Sun as "his excellency." Former employees speculated the ambassadorship is a play for diplomatic immunity.
Sun finally flew to San Francisco to build his cryptocurrency empire, wearing his signature Gucci sneakers bedazzled with large pineapples over the laces every day. Tron's "initial coin offering" of its own cryptocurrency, TRX, had gone extremely well. Sun told employees that, for one day, he was richer than Bill Gates.

The peak of his entitled behavior, according to a former employee, was when he fired his personal assistant because she booked a doctor's appointment and sent him along in an Uber. Sun was furious. Sun expected the doctor to come see him. HR explained to the assistant that she didn't know how to serve rich people.

Sun started reading existential questions about Tron's future, such as, "What if TRX [Tron's crypto] drops to zero?" Sun's mood soured instantly. "He took it extremely personally." According to the employee, he began yelling and threw a tantrum. "Whoever asked this question, we're going to track them down," Sun seethed, before threatening "to kill their entire family."

As one former employee told me, "I would say he's the hype man of the century."

Because he was born in a poor, rural province of China, Qinghai, Justin Sun always felt he needed to prove himself. "From the very beginning he had this dream to do something that was apparently impossible," a former employee told me.
"Americans by contrast, they're lazier, but they're more creative," a former senior employee recalled Sun explaining.
On at least one occasion, Sun fawned over Donald Trump's marketing at a meeting. A former employee also believed both had an affinity for dictatorial power. Sun only selects "yes men" for his inner circle, former employees explained, so they stake their future on him. One compared Sun's apparent insistence on loyalty to Trump's control over the Republican Party, except Sun is "many levels better than that."

"Justin doesn't care about how to actually run a business," they said. "He just cares about making loud noises and getting results."
"In my opinion, Justin Sun is an evil genius," a former employee said. "Nothing can stop him."

"There's no bottom to how low he's willing to go to achieve his goals," a former employee said. "He doesn't care about anybody. He doesn't care about anything."